Pure! Ecuador
Why to choose this agent
Pure! Ecuador

Travel with us to Ecuador where you will be travelling with a motivated team with a lot of personal experience. We are a specialized and a recognized Tour Operator for Ecuador & the Galapagos Islands. Managed by an ideal blend of Europeans and Ecuadorians, we are specialized in soft-adventure and special interest tours all around Ecuador - offering a variety of quality services for independent travelers, families and large groups.
We have experienced all styles of travel from backpacking & trekking to deluxe cruises at the Galapagos Island and exquisite lodges at the Amazon rainforest. Choose from our selection of package tours which have been designed with careful attention to detail. These can be modified to cater for your personal interests and comfort. We manage a responsible Travel policy where we are doing our best to foster the positive effects of adventure travel, while minimizing our harmful impacts on local communities and their environment.
Ecuador is a country with contrasts that we are passionate about and love to share our experiences of places to see, and places to stay with you. We know and love Ecuador and can provide for you a personalized travel experience that will exceed your expectations.

Buen Viaje!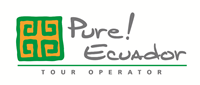 Calle Isla Santa Fe N43-106
Quito, Ecuador