Green Arrow Tours
Why to choose this agent
Green Arrow Tours is one of the leading tours & travel agencies in Jordan with extensive connections in Jordan and the region. We do operate through our offices in Amman and through an extensive network of partner companies, travel industry contacts and affiliate service providers both in Jordan and abroad. We provide our clients with the extra that they are looking for, yet at no extra cost to them. We are always at the forefront of new development in the world of travel with its new technology and bright ideas. Since 1996Green Arrow Tours has been providing its clients with the best quality of services and competitive rates. With our 20 plus bilingual professional team, Green Arrow is always ready to look into your smallest needs and concerns, making sure that your trip on a Holiday or Business will be nothing but a total satisfaction.

OUR MISSION:
Provide you with an excellent and comprehensive travel service most efficiently at a reasonable cost to you.
OUR VISION:
See that our clients continue to choose us again and again for all their travel needs; be it corporate, business, meetings, conferences or leisure.
OUR VALUES
Maintain a competitive edge in the market by constant improvement to our services to match the best available in the world.
Employ staff of highest caliber in professionalism and customer care to serve you.
Adopt the very latest IT techniques in the travel industry.
Tailor our services to suit your needs and aspirations.
Be fully committed to Quality and comprehensive services under one roof.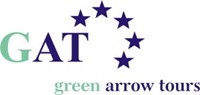 Mecca Street, Behind Auto Mall, Mocha Building
Amman, Jordanië