Adventure Myanmar Tours and Incentives
Why to choose this agent
As one of the Destination Management Companies in Myanmar, with over 20 years of extensive experience, Adventure Myanmar can provide you with a seamless travel experience. Since its establishment, Adventure Myanmar Tours & Incentives is steadily and systematically improving its service to meet the current needs of today's rapidly growing & demands of today travelers.
It has a strong financial background and enjoys special contract rates with the hotels, airlines, cruises, etc.. It retains experienced, young and energetic team of over 200 people.
Moreover we polish the ability of our whole team by conducting more training courses with professional training experts from foreign countries. As an overall result, we are quite happy.
Our concept is "to deliver the image of our countries with illusion, personalized services and a lot of details".
Our experienced and dedicated team is able to cater to a wide range of interests: from classic tours, adventure tours to exclusive holidays for those looking for the vacation of a lifetime.
We're also sharing our profits by contributing mainly for Education and Health sectors in Myanmar. We establish many libraries in rural area as much as possible to raise the life of Children.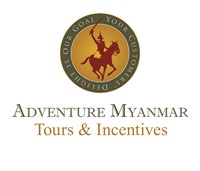 No.27, Inya Myaing Road, Bahan Township.
Yangon, Myanmar